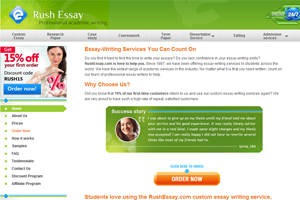 GENERAL INFORMATION
This writing service has built up a solid reputation of assisting students internationally. No matter where a student is located they can make use of this US registered service. Their good name is more than hearsay because 92 % of first time customers become returning customers because they are impressed and satisfied. It would be safe to say the academic crowd is not easy to please but this service is carried out by researchers and writers with at least a master's degree. Academic writing is meticulous and scrutinized by demanding academics so the standard is suitably high. Many dedicated students experience periods when they just don't have enough time and they need assistance. This is the writing service that guides them in order to save time and meet a deadline.
CUSTOMER SUPPORT
Customers can make contact with the customer support team using a toll free number or live chat available 24 hrs a day, 7 days a week. This is a timeline that is most convenient for students around the world who can get their questions answered as they arise. Each customer may have direct contact with their assigned writer. Just like the research and writing team, the customer support team is experienced and knowledgeable in its own field.
Services
RushEssay.com provides a custom writing service to academic students and this includes topics that are considered rare and complex. Its writers can deal with custom essays, coursework, term papers, dissertations and research papers. The writing service also extends to CVs, formatting, proofreading and editing. All writing can be done according to the relevant education level i.e. high school all the way to a PhD. All the writers hold degrees and adapt writing style in favor of the individual customer. Their aim is to assist the student by producing a high quality paper meeting all requirements.
PRICES & DISCOUNTS
Pricing per page is done according to three different levels with different deadlines:
Standard
10 days $22.95, 7 days $23.9, 5 days $25.95, 4 days $27.95, 3 days $29.95, 48hrs $32.95, 24hrs $39.95, 12hrs $41.95 6hrs $43.95, 3hrs $46.95
Advanced
10 days $24.95, 7 days $25.9, 5 days $27.95, 4 days $29.95, 3 days $31.95, 48hrs $35.95, 24hrs $42.95, 12hrs $43.95 6hrs $45.95, 3hrs $48.95
Premium
10 days $26.95, 7 days $27.9, 5 days $29.95, 4 days $32.95, 3 days $34.95, 48hrs $39.95, 24hrs $46.95, 12hrs $47.95 6hrs $49.95, 3hrs $52.95
If you are a first time customer speak to customer support to make sure you get the 15 % discount on your first order. There is also a discount program only for loyal customers. A customer's expenses are calculated so that a 5 %, 7 %, 13 % or 17 % discount is automatically given to all orders as the level increases. Each order placed pushes up a discount.
DELIVERY
Each academic essay is professionally researched, prepared and written by experts who are keen to deliver it to the student. Delivery is efficient, quick and easy. The student logs in to a personal file where the completed paper is ready for downloading. Should there be a problem it is emailed.
QUALITY
The 92% returning customers is the reason this writing service knows it produces high quality academic custom writing. It's not surprising because only degreed professionals many of whom are teachers and professors make up the writing staff. Even so, for each order the assignment is carefully paired with a writer who has the experience and qualifications to produce the best paper. Regardless of having the minimum education level of a master's degree, a new writer must pass the entire selection process. Writers are continually monitored and evaluated maintain the highest standards of research and writing.
No matter how well prepared things don't always go according to plan for the customer. At times changes have to be made and RushEsssay.com understands. A student may request amendments, free of charge but the original instructions in the original request must stay the same. At times amendments must be made due to a request from a teacher or professor. If a customer is unhappy there is 14 days to do as many revisions as necessary but the revision request must correspond with initial requirements to be gratis. This is rarely made use of by customers but it's good to know all the details.