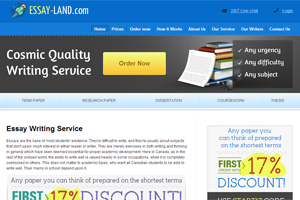 GENERAL INFORMATION
Every student knows it is not easy to just come up with a suitable topic for every subject studied. One way to get round this obstacle and time-waster is to use a database containing in excess of five thousand essays, reports, research papers and term papers. Students are able to browse papers and download for free. All the papers have been contributed by members of the site Essayland.com and they do it to help one another.
Not only does Essayland.com have a free database of essays to help the flow of information amongst students but they also have a writing service for custom papers meaning personal assistance. This requires customers to fill in an online form of personal details and special requests regarding the paper to be written. This service has been successfully producing academic papers for more than a decade; enough time to declare they are well-established within the industry.
CUSTOMER SUPPORT
Customer Support is one of the most important services to any consumer. Students have a choice between a live chat and emailing. The team of informed representatives is trained to deal with queries and set a customer's mind at rest. They know it important because students need to concentrate on studies and even part-time jobs. Customer Support representatives are on call 24 hrs, 7 days a week.
SERVICES
There is always a writer available to work on any kind of academic assignment. The team does the research, bibliography and writing and they have experience in the subject. They are adept at article critique, research papers, multiple choice questions, term papers, lab reports, dissertations, case studies, essays, proposals, personal statements, admission services, scholarship essays and other admission essays. Proofreading and editing services are also made available.
Students do have another alternative to custom written essays. The service also makes available pre-written papers with a standard delivery time of 6 hours or a rush delivery of 30 minutes.
PRICES & DISCOUNTS
Like all writing services, this one also offers academic papers within different levels and prices. In all instances the deadline affects the price, the shorter the deadline, the higher the price.
Prewritten report is $9.99 per page
An ordered essay is $19.99 per page if delivery 10 days (but $41.99 if delivery is 3 hrs).
Premium quality paper is $21.99 per page if delivery is 10 days.
Platinum quality paper is $23.99 per page if delivery is 10 days.
Only writers with a PhD are used for Platinum quality papers and are worth every penny.
Discounts are given to customers who make bulk orders:
5 % for 15 – 50 pages
10 % for 51 – 100 pages
15 % for 101 or more pages
There is also a 17 % discount given to first time customers.
Customers pay for academic papers by means of check, money order, credit card or Western Union.
DELIVERY
This writing service is especially known for meeting tight deadlines. Tightly squeezed students can get their rush papers delivered three hours from ordering but 48 hours is preferable for dissertations. There is also an overnight delivery if required. Academic assignments are delivered via email or customers can upload them in their personal account section.
QUALITY
This writing service understands students have little time but are generally adequate writers able to spot an inferior essay. This never happens because it is possible for the student to have direct contact with the writer so there is very little room for misunderstandings regarding requests. It makes it easier for both parties but it is the expertise of the writer that ensures no grammatical and structural errors and no typos. The qualified writer collaborates with an experienced researcher to produce content that is informative, interesting and 100 % relevant.
Students are happy to use this academic writing service because there are writers available 24/7 to ensure delivery dates are always met. This is an important guarantee of the service. Every assignment that is ordered and delivered is accompanied by a free of charge bibliography or works cited. This is a mark of the professionalism of the writers and researchers who themselves hold masters degree and PhDs. Many have published academic papers, books and articles. It is this high degree of learning and experience that makes it possible for the service to deliver quality papers on time.
Good Additional Resources